From our current stock of books for sale:
BEYER, PEACOCK & CO.
'Leinster' and tender. Fine contemporary works photograph of one of the locomotives for the Ulster Railway.
Manchester, Beyer, Peacock, 1863
Description
Beyer, Peacock & Co., founded in 1854 at Gorton Foundry, Manchester, was one a highly-regarded firm of locomotive and machine tool makers. Its founding partners were Charles Frederick Beyer, who had been chief engineer to the locomotive builders, Sharp Brothers & Co, and Richard Peacock, who had been locomotive superintendent of the Manchester & Sheffield (later Manchester, Sheffield & Lincoln) Railway. The firm survived until 1958, supplying locomotives to railway companies all over Britain but they were particularly renowned for the many engines they made for companies in further-flung parts of the world. They were also unusual in that they took a splendid record photograph of every type of engine they made from 1856 onwards. Although the negatives still exist, the actual photographs themselves rarely come on the market.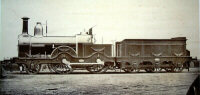 The present photograph is of 'Leinster', a 2-4-0 engine, one of 4 made in 1863 for the Ulster Railway. It and the other three locomotives are nos. 367-370 in the progressive numbering sequence of locomotives. (See: Hills,
Some contributions of locomotive development by Beyer, Peacock & Co.
, Trans. of the Newcomen Society, Vol. 40). The Ulster Railway was opened to Lisburn in 1839 and extended to Portadown which it reached in 1842. Originally built to a gauge of 6ft. 2ins, it was converted to 5ft 3ins in 1846. In 1876 it merged with a number of other lines to form the Great Northern Railway (Ireland).
Collation
Fine contemporary photograph 25 x 14½ ins on original mount, 17½ x 23 ins. Unfaded and in fine condition.
Price
£450.00
Catalogue No: 6402