Catalogues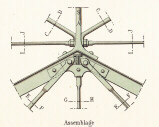 "Julia Elton comes from the school of the late Ben Weinreb, and her catalogues are meant for keeping"
(James Fergusson, review in Bookdealer ).
Our catalogues contain accurate and scholarly notes about each of the books, so as to put them in context with contemporary developments, and assess their influence and rarity. In this we follow the principles set out by Ben Weinreb, visionary bookseller and author of The London Encyclopaedia. He applied this principle to low-cost as well as to expensive books - as do we. This approach is particularly valuable for a subject like engineering, where the books can sometimes seem dry, but where a little digging on the part of the cataloguer can reveal all sorts of interesting things. Some of our catalogues have a specific theme, some contain several groupings of books. Whatever the case, the notes and detailed bibliographical information are likely to be useful to collectors. See the
Books in stock
for a list of the fine volumes and manuscripts that are currently for sale.
Past catalogues
Catalogue No 1
Bridges - Breakwaters - Exhibitions - Foundations - Railways - Roads - Theory Catalogue No 2
Engineering & Engineers – Bridges – Rivers & Canals – Railways & the Steam Engine – Electric Telegraph Catalogue No 3
Reference Works in the History of Technology. Books from the Library of J G James Catalogue No 4
Suspension Bridges: their History & Development with Related Works Catalogue No 5
Civil Engineering: A Miscellany of Books with a section on Fire-proofing & Iron Architecture Catalogue No 6
Timber & Masonry, Iron & Steel, Cement & Concrete: The science and development of materials and their application to building and civil engineering Catalogue No 7
Railways: Including a section on the atmospheric railway and a selection of prints and drawings Catalogue No 8
A Catalogue of Reference Books: Civil, Structural, Mechanical & Electrical Engineering, Transport, Manufacturing, Architecture & Building Technology Catalogue No 9
Transport, Communication & Public Health: including books on the Channel Tunnel and Brunel's "Great Eastern" steamship Catalogue No 10
Two Hundred Books on the Engineering of Architecture Catalogue No 10
Rail, Road & Water: Transport & Communication including telegraphs and telephones Catalogue No 12
Architecture & Engineering: 19th and 20th Century Reference Works Catalogue No 13
Invention & Innovation Catalogue No 14
Building Technology, Bridges and Railways, with related subjects Catalogue No 15
One hundred illustrated books, prints and drawings Catalogue No 16
Gas & Electricity for Light & Heat, I K Brunel & the Broad Gauge, The Electric Telegraph, Civil & Mechanical Engineering Catalogue No 17
Transport, Civil & Mechanical Engineering, Structure and Architecture Catalogue No 18
150 books on Civil Engineering, Steam Engines and Boilers, Submarine Telegraphy and the Works of Gustave Eiffel Catalogue No 19
Ninety-one Rare and Unusual Books and Manuscripts
Past catalogues can be bought for £10 each..