From our current stock of books for sale:
TREDGOLD, Thomas
Principles of warming and ventilating public buildings, dwelling-houses, manufactories, hospitals, hot-houses, conservatories &c. and of constructing fire-places, boilers, steam apparatus, grates and drying rooms; with illustrations experimental, scientific, and practical. To which are added, remarks on the nature of heat and light; and various tables useful in the application of heat.
London, Printed for Josiah Taylor, 1824. 2nd edn.
Description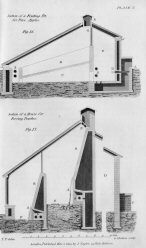 Heating pineapple and peach houses
Tredgold's book is devoted to heating by steam rather than by warm air or hot water, the other methods available. His work was first published in 1824 and was the earliest to deal comprehensively with the subject in a practical manner; it was also the most widely circulated, going into three editions and being translated into French and German. After covering such technical matters as boiler construction and the design of steam-distributing apparatus, as well as methods of preventing heat loss, Tredgold gives guidelines for various types of buildings. These include schools, churches, courts, theatres, cotton mills and musical instrument makers' workrooms as well as buildings requiring a more intense level of heating and ventilating, notably greenhouses. In some cases he gives actual examples of buildings, such as Portland Chapel in Cheltenham and Shute's silk mill in Watford.
Collation
8vo. xiv + 325 + (1)pp, 9 engraved plates and some wood-engraved text figs. Publisher's boards, spine neatly repaired with remnants of old label and paper laid down. Partially uncut and unopened. Ownership inscription of Isaac Trimble, presumably the American railway engineer and famous confederate general of Gettysburg.
Price
£550.00
Catalogue No: 5415