From our current stock of books for sale:
SCHELTER & GIESECKE
Fünfundsiebzig Jahre des Hauses J.G.Schelter & Giesecke in Leipzig.
(Leipzig, 1894)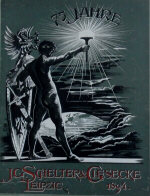 The sumptuous decorative binding
Description
A beautifully printed and illustrated history of a famous firm of German type founders, which was established in Leipzig in 1819. Associated with some of the most famous names in publishing, such as Tauchnitz and Breitkopf & Härtel, the firm developed increasingly sophisticated type-casting machinery described here.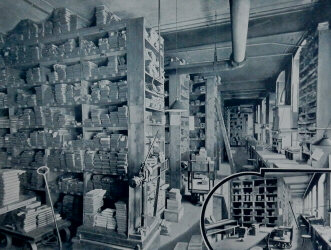 A view of one of the storerooms in the printing works
Collation
Small folio. (ii) + 62pp incl. many photo ills. Chromolitho frontis. Orig. decorative silver and green boards. A lovely copy.
Price
£150.00
Catalogue No: 5142