From our current stock of books for sale:
(FRANKENSTEIN GROUP & HANDLEY PAGE) F.H.P. (Structures) Ltd.
F.H.P.110 Air-Portable Hangar.
January, 1967
Description
The need for temporary shelters has substantially increased in the last fifty years to provide civic venues for sporting events and pop concerts as well as for military uses. This brochure gives details of a particularly large hangar capable of being transported by air and quickly erected at the desired site. It was designed and manufactured by a firm, which combined the expertise on the Frankenstein Group in the making of fabric with Handley Page's knowledge of aerodynamic loading, structural design and air-portability.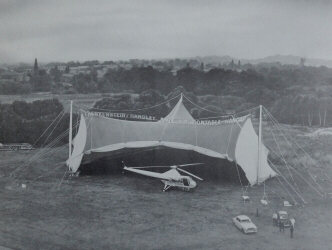 Frankenstein Handley Page Air Portable Hangar, Farnborough 1964
The shelter covers a column-free area of 11,100 square feet with a maximum height of 33 feet and is supported on exterior masts stabilised by guys. It is triangular on plan with side opening of 95 feet and the fabric is kept taut by tensioned curved cables. Methods of erection and operating instructions are also detailed. 3 loose photographs are included with the item.
Collation
Oblong 4to. (36)pp incl. ills. Orig. printed wrappers. 3 extra photographs tucked inside.
Price
£150.00
Catalogue No: 5119