From our current stock of books for sale:
(ARKWRIGHT, Richard)
The trial of a cause, instituted by Richard Pepper Arden, Esq; his Majesty's Attorney General, by Writ of Scire Fascias, to repeal a patent granted on the Sixteenth of December 1775, to Mr.Richard Arkwright, for an invention of certain instruments and machines for preparing silk, cotton, flax, and wool for spinning; before the Honorable Francis Buller, one of the judges of his Majesty's Court of King's Bench,at Westminster Hall, on Saturday the 25th June 1785.
London, 1785
Description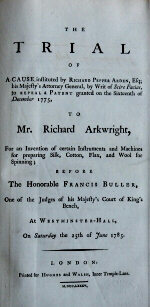 Report of the 1785 trial proceedings
Richard Arkwright revolutionized the textile industry with a series of machines, which completely mechanized the process of cotton spinning and replaced the use of domestic hand labour with the factory system. In 1769 he patented his spinning machine and in 1771 he built the first mechanized spinning mill at Cromford, using water to power it. He then proceeded to mechanize the preparatory processes of carding and drawing, running the machinery off the original spinning frame and taking out a further patent in 1775. "While each separate machine was in itself a remarkable triumph of inventive skill", notes the DNB, "the construction of the whole series, and the adaptation of each to its individual function in the continuous succession of operations, must be regarded as an almost unique achievement in the history of invention". However, these developments were not achieved without considerable difficulties and opposition from other textile manufacturers. In 1781 Arkwright successfully sued nine firms for infringement and in 1785 won a further case validating his 1775 patent. Since by now there were about 30,000 infringements, several manufacturers grouped together and obtained a writ of scire facias for a new trial to repeal the patent. The present item is verbatim report of the trial proceedings, including the cross-examination of witnesses. The trial hinged on the necessity to overturn Arkwright's claim to be the inventor of each separate machine and a procession of millwrights, frame-makers, mechanics, smiths, manufacturers and so on, some who had been employed by Arkwright, came forward to give evidence. They include the widow and son of James Hargreaves, inventor of the spinning jenny, but the central witnesses were John Kay, a watchmaker who had worked closely with Arkwright and had made models for him, and Thomas Highs, who claimed to be the real creator of the roller drawing process. Thus the document (which includes a fine engraving of the disputed machinery) gives a rare and fascinating glimpse into cotton manufacture at the moment it was changing from small-scale domestic production into a recognisably modern and mechanized industry and although Arkwright lost the case, his achievement in bringing about this change has never been in doubt.
Collation
Small folio. 191 + (1)pp, 1 folding engraved plate. Contemporary marbled boards, corners bumped, rebacked.
Price
£1,250.00
Catalogue No: 4527