From our current stock of books for sale:
YATES, Gideon & RENNIE, Sir John
A view of Old London Bridge, in 1823, after the removal of the water works, from a drawing by Major G.Yates. And three views of New London Bridge, from drawings by Sir John Rennie, architect for the bridge.
London, R. Martin (lithograther), nd but c.1831
Description
The mediaeval London Bridge with its closely-centred arches and its waterwheels was finally replaced in 1823-1831 with a five-span masonry bridge designed by John Rennie but executed after his death by his son, Sir John Rennie.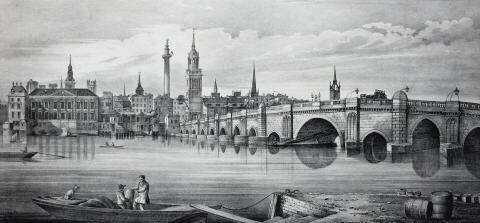 A View of the West side of London Bridge in 1823, after the removal of the waterworks
The present fine set of four lithographs comprises a handsome view of the old bridge after the removal of the old water wheels and three drawings in plan and elevation of the new bridge. These last show some technical details, including centring, foundations and cofferdams as well as the relationship of the new bridge to the old, which served a last brief role as a service bridge, and the new arrangement of approach roads. Gideon Yates, a Lancaster artist known for his drawings and watercolours of the London Thames, was the artist for the view of the old bridge while the younger Rennie provided the other three. The four lithographs are here in their original printed wrappers and are in good clean condition.
Collation
Oblong folio. 4 litho plates. Orig. printed wrappers, new matching paper spine. Lower wrapper spotted and neatly repaired for a long tear. Some repairs for very small tears at the outer margins of three of the lithographs, not affecting printed surface. Boxed.
Price
£1,250.00
Catalogue No: 3327